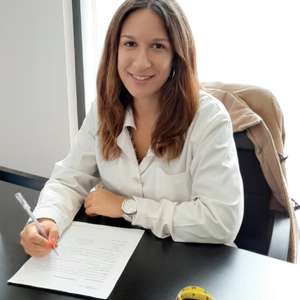 Degree in Nutrition Sciences from ISCSEM; Post-graduated in Metabolic Diseases and Eating Behavior at the FMUL and holder of several courses and training in the field of Sports Nutrition, Functional Nutrition and Weight Loss.
Her journey began in 2012, where she was Nutrition Coordinator for a Fitness chain and collaborated for 5 years with Sport Life Magazine.
At the moment, he practices Nutrition in the clinical and sports area.
differentiation areas
Slimming
Increased Muscle Mass (Hypertrophy)
Food Intolerances
Nutritional Deficiencies
Celiac disease
Irritable Bowel Syndrome
Vegetarianism
Eating Disorders
Food in Pregnancy
Infant Nutrition
languages
Portuguese
English
Spanish
pre-reserve an appointment
pre-reserve an appointment